What we do
Product Support Services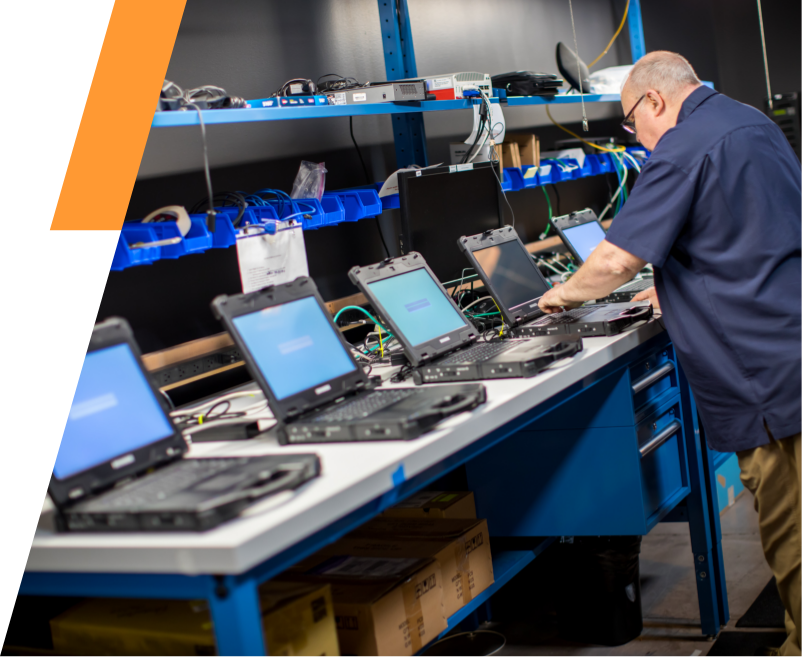 Overview
Is your organization in need of an independent service provider to deliver a spectrum of assistance on hardware or software products? Our team is at the ready to aid program managers and customers seeking third-party support for hardware/software products. Our product support services provide value-added, labor-based assistance for hardware and software distribution, training, and configuration.
Your Problems Solved
Getting new equipment into the hands of users is a complex process for manufacturers and defense programs of record managers. Often, help is required when end users and partners need assistance utilizing these new products. ACI can provide answers to their questions. It is frequently more cost-effective to have an independent service provider like ACI in your corner instead of solely relying on the manufacturer. If problems arise with distribution or the need for user acceptance—as is often the case when new equipment is fielded—ACI can tackle those headaches on your behalf.
Program of record equipment fielding services aid with efficient systems management, solving of operational problems, product accountability, and distribution management. User behavior very much depends on having ready access to support services after a fielding event occurs. ACI can provide that service for your next project. Our total package fielding services include on-site logistics, training, and sustainment support for new or modified systems issued to units. This includes shipping, receiving, inventory, and transfer of equipment. Both Operator and Maintainer New Equipment Training (NET) is typically conducted concurrently with fielding activities.
ACI Can Help
ACI tailors each product support team to the needs of your project. We can meet the complex demands of a multi-year, worldwide total package fielding effort—including domestic and overseas locations. Or we can offer a limited team to satisfy requirements for a specific aspect of product support, such as warehousing, shipping, distribution, or similar needs. In all cases, our product support team bridges the space between manufacturer, program manager, and the user. We are willing to provide an on-site presence at locations across the globe if that's what your project demands.
For configuration management projects, ACI documents, reports, manages, and surveils the function, physical, and virtual characteristics. That includes interface control and component obsolescence to enable system-of-system integration across its lifecycle. We provide authoritative documentation that defines the configuration and performance requirements, specifications, parameters, and procedures necessary to ensure optimal performance in an operational or test environment. Documentation consists of models, engineering design data, interface control documentation, specification standards, performance requirements, software documentation, and quality provisions.
ACI understands better quality support results in greater user satisfaction. That in turn leads to higher demand for the product and improves operational use of the equipment or software package. Excellent post-fielding support services provide an ample source of information to assist you in evaluating a product. Reach out to ACI to see how we can add value to your next product in need of third-party support.
01
Training and Training Support
02
Configuration Management
04
System Lifecycle Sustainment
07
Large scale system production and replication